San Diego Carpet Cleaning Specials!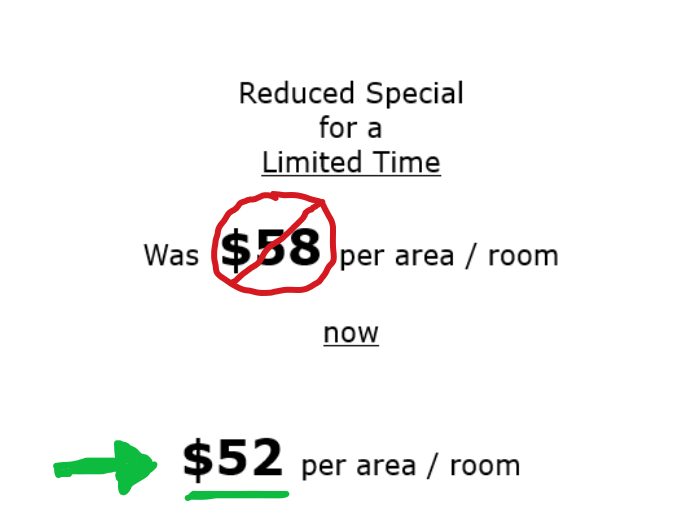 As you are searching for the right carpet cleaner and a cleaning company that fits your needs. I completely understand that your budget is playing a major role in your decision. I also understand that many sadly make there final choice on price. I know as a fact that many carpet cleaning companies in our area are much less then ours, but we have all heard the saying "You get what you pay for!" "If a cleaning price sounds too good to be true, it usually is."
I know, with 100% confidence, that I have designed the most thorough, green and soap free cleaning process available in the industry at this time.
It includes everything needed to get your carpets, upholstery, tile and grout as clean as they possibly can be. But that requires time and energy.
* It is the time of 2 men for every appointment.
* It includes all the vacuuming, moving of moderate furniture
* Pre conditioning spots and stains
* Putting furniture back in place
* Grooming the carpets
* Using high speed dry fans to ensure fastest and shortest drying time
* Using more a much more advanced and thorough Rotary Extraction method. Instead of just an industry standard carpet scrub wand. This again is ensuring you get the most thorough cleaning available.
If you are looking for an inexpensive, get in and out quick carpet cleaning, I will openly say that Peninsula Carpet Care is not the right fit your needs!
Our services are designed for the San Diego residential owners that are concerned about there homes, families and pets. If you want to make 100% sure that the investment you made in your carpeting is taken care of in the best way possible. We Are A Fit!
Do you want your indoor home air quality is free of toxic odors and chemicals? Then yes we are a Fit!
Please ponder this thought as you make your decision - If you save $20-$40 on your next cleaning, but the spots and stains return in a few weeks. Or if the service doesn't fulfill your expectations the way you had expected and they provide No Money Back Guarantee.
Did you really save any money?
I truly hope you can see the True Value in our services!
I also hope you will find a way to fit them into your budget . Because we would love to add you to our family of many satisfied friends and clients.
Jayson Yavorsky
619.275.5555
Please Fill out the form below to take advantage of our
Introductory Website Offer
(a 3 room minimum does apply)
------------------------------------------------------------------------------------------
For those who are concerned about there expensive carpeted investment and want to keep there carpets as clean and new as long as possible.
1 area ($26) worth of Carpet Protection for Free!
( please mention the Free Room of Protection when scheduling )
If you wish to protect more rooms the special pricing will be at $22 per area
(a 20% savings)
* please note: an area/room is cleanable carpet up to 150 sq ft & a flight of stairs is considered an area
* small hallways under 20 feet long are considered and priced as only half an area
Reminder: These Introductory offers are for Residential owners in San Diego that are 1st time clients to Peninsula Carpet Care
Please read what some of our past clients took the time to write about our services: